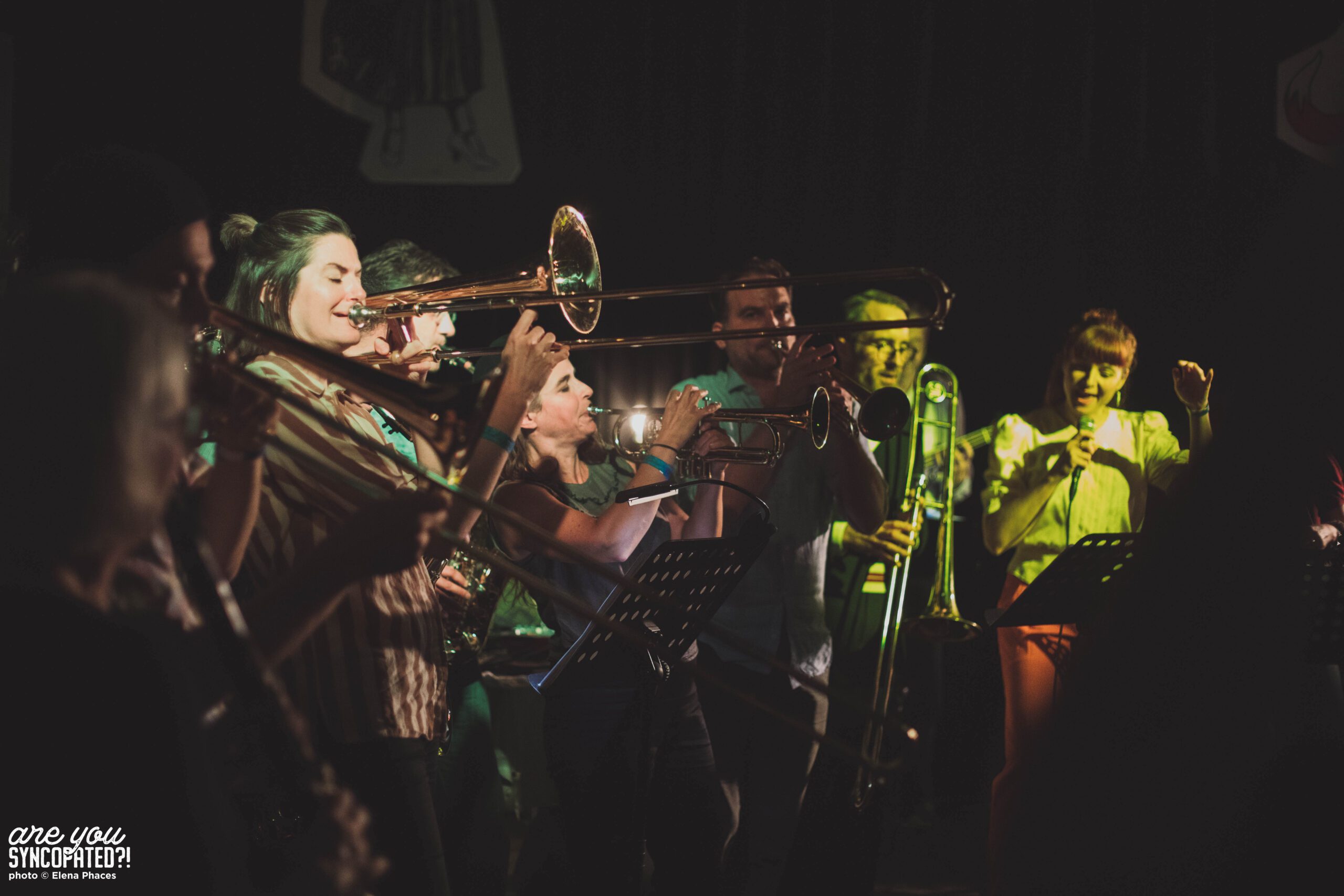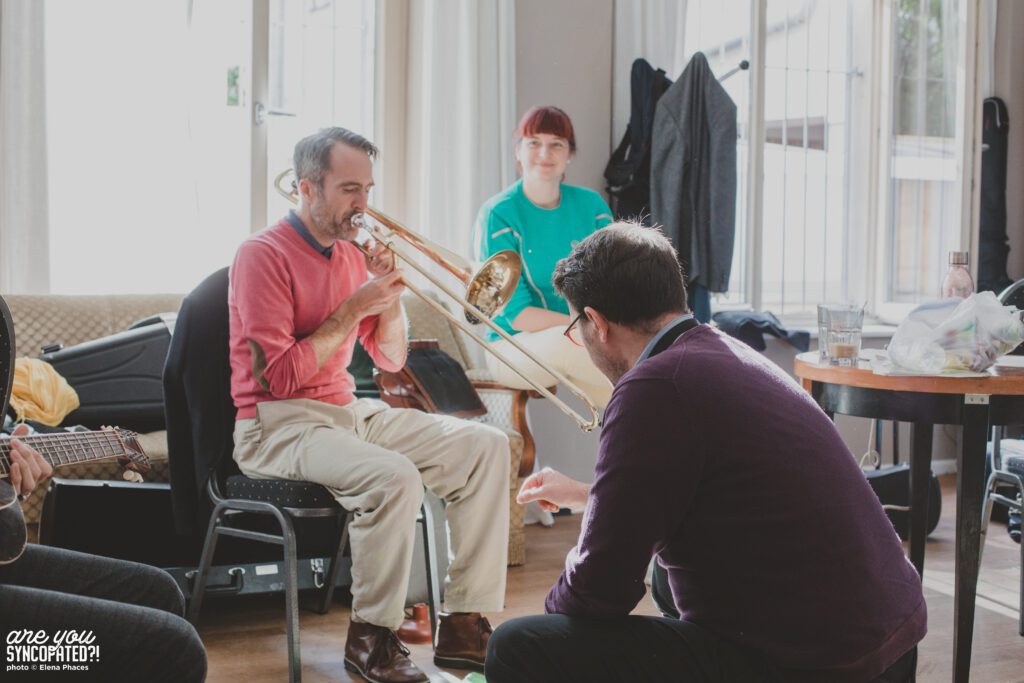 3 days of hot music with professional musicians and a public performance
Schedule
WEDNESDAY
THURSDAY
FRIDAY
FRIDAY and SATURDAY
10h registration
10h doors
10h doors
Presentations@Holzmarkt

before or after the first band
21h30 – 23h30
10h30 – 13h band workshops
17h30 – 18h removal/buffer
10h30 – 11h (or later) kick-off
13-15h lunch break + rehearsal space
13-15h lunch break + rehearsal space
13h30 -15h lunch break + rehearsal space
15-17h30 section rehearsals
15h-17h30
15h-16h30
17h30 – 18h end
17h30 – 18h end
16h30 – 17h
end
Are You Syncopated?! offers an immersive experience to enhance your playing with music workshops exploring different styles of early jazz and collective improvisation. The three days of workshops will be led by musicians who actively play this music. It will be practical, with an emphasis on active listening, awareness and reactivity.
This will then be put into practice as participants can jump on the bandstand and work on their musical expression during the late-night jam sessions throughout the festival. There will also be a final presentation of the workshop bands during the weekend. The exact time slots are not set yet.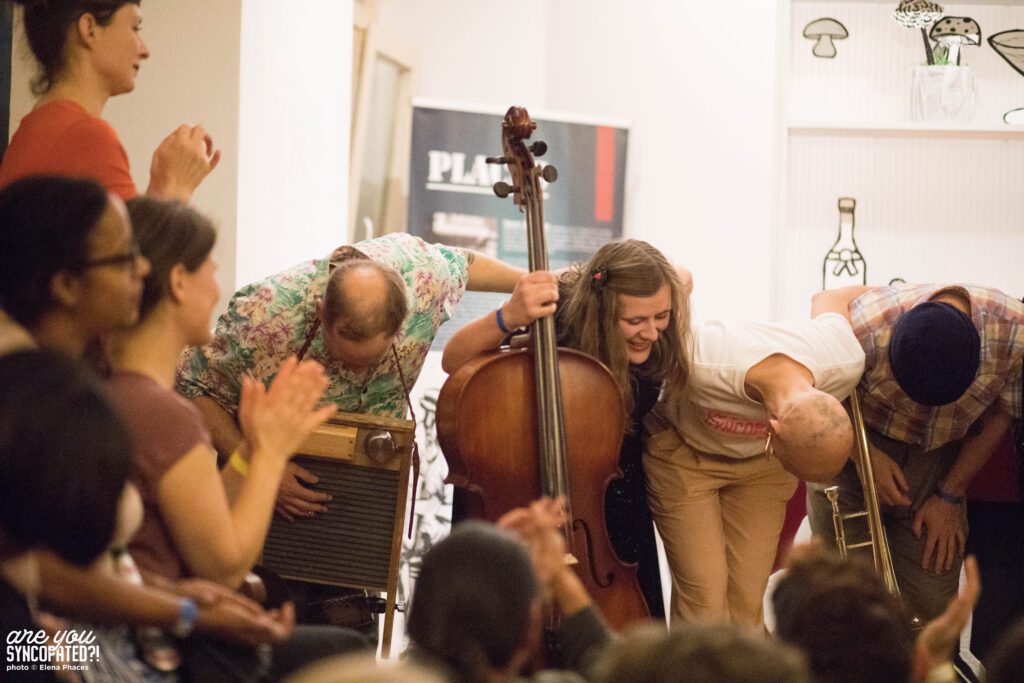 The program is revolving around 3 tracks for 3 bands. Adjustments might occur as registrations unfold.
Track 01 – Written arrangements and improvisation.
For players who know how to read music and are interested in old-style jazz.
Reading old dance band arrangements that leave space for (collective) improvisation.
Work on the general band sound and dynamics.
Track 02 – Musical communication within a band.
For advanced players, who can learn and memorise music by ear.
Working out the rules for instant arranging.
Counterpoint, roles in old jazz, lead and follow.
Track 03 – Exploring different band styles and resources.
For players with experience in old styles of jazz and a fluent understanding of their instrument.
Study the styles of different bands to create an authentic sound.
Explore bandleading skills and experiment with different voicings.
---
AYS?! 2022 workshop trailer
Teachers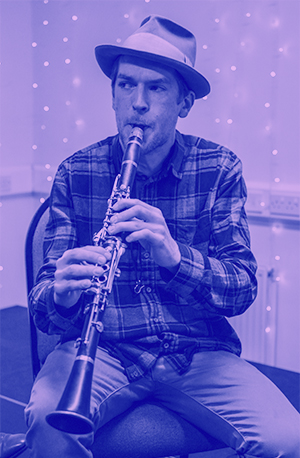 Laurin Habert
Teacher, coordinator
Laurin Habert plays clarinet and saxophones in old-style jazz settings, as well as ragtime and blues. Based in Berlin since 2008 he has been touring with internationally celebrated bands like "Frog&Henry", "Old Fish Jazz Band" and "The Ragtime Nightmare" all over Europe, the Caribbeans and in the U.S.A. Throughout the years he has collected songs from piano rolls, jug bands, string & brass bands, beguine and early American dance bands. He regularly plays and teaches in Berlin.
Carlos SantAna
Teacher
Carlos Santana is a versatile musician hailing from southern Spain and based in Berlin since 2007. Former member of numerous bands of the Berlin hot jazz scene, he has spent the last 15 years playing all around Europe and the U.S.A. with international formations such as "Old Fish Jazz Band" or the "California Feetwarmers". Specialised on both tailbone trombone and stride piano à la New Orleans, he can bring a lot to the game and help through a long experience as a performing artist, arranger, and a patient teacher.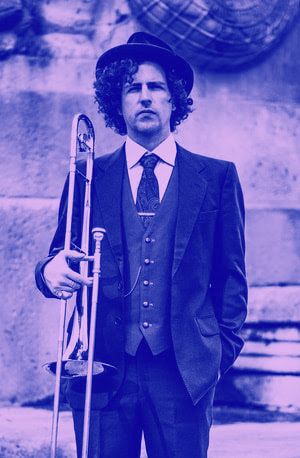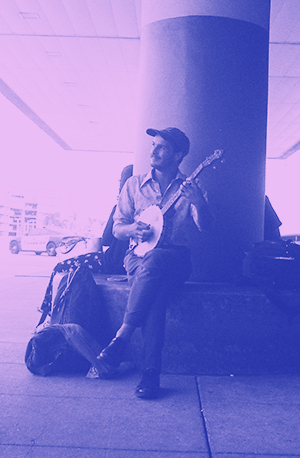 Quentin Bardi
Teacher
Quentin aka Bardi was born in Toulouse 28 years ago and started playing banjo in 2012 during a trip to the U.S.A. He specialises in early 20th-century music with a focus on traditional jazz and the biguine of the French Antilles. After numerous travels and musical tours around the globe, including two Atlantic crossings by sail, Bardi now lives between France and Berlin, working full-time as a musician in dance music orchestras of the 20s and 30s. He can be heard playing the tenor banjo, the mandolin or the tenor resonator guitar.
Eldar Tsalikov
Teacher
Jazz is dead, and the man who killed it is Eldar Tsalikov. A prodigy and seasoned musician, Tsalikov acts as a time portal to the old jazz that seems to flow naturally through him. He is well-versed in many different styles of music, always experimenting with his sound and blending many different musical influences.
Eldar was born in Rostov-on-Don (Russia) in 1993 and started playing the saxophone at the age of 9. At the age of 17, after graduating from jazz school, Eldar decided to continue his education abroad. He moved to Germany and began studying at the Berlin University of the Arts with Peter Weniger, Greg Cohen and John Hollenbeck.
He has won several competitions such as the IV International Jazz Competition in St. Petersburg (Russia), the Ukraine International Jazz Festival in Kiev and the VIII International Jazz Competition in Odesa.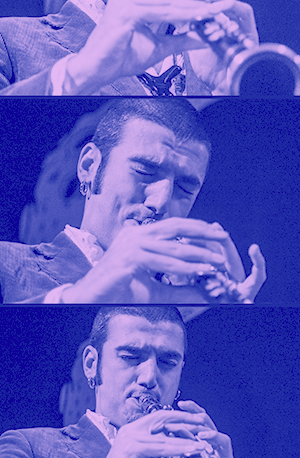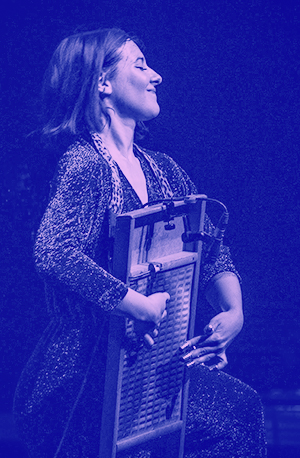 Angela Strandberg
Teacher
Professional trumpet player, washboardist, singer and last but not least band leader of the French group Mama Shakers, Angela Strandberg has been on stage ever since she was a kid. She definitely knows how to set a show on fire and take your time travelling to the roaring 1920s. During the festival workshops, her goal is to make everyone discover the fun of collective improvisation-just like the authentic recordings – and create arrangements on the spot from scratch. She'll share all the tricks up her sleeve on how to make the ultimate hot jazz ensemble!
George Aschmann
Teacher
From rural Fort Valley, Virginia, George Aschmann began playing the violin around his home at an early age. He has studied many forms of early recorded American music, including blues and jazz violin styles from the 1920s and 30s. George started travelling to New Orleans to study and play music in 2014 and has since performed across the U.S. and Europe with several groups, most recently touring with the collective Frog and Henry and his trio/quartet the Marmalade's Melody Men.