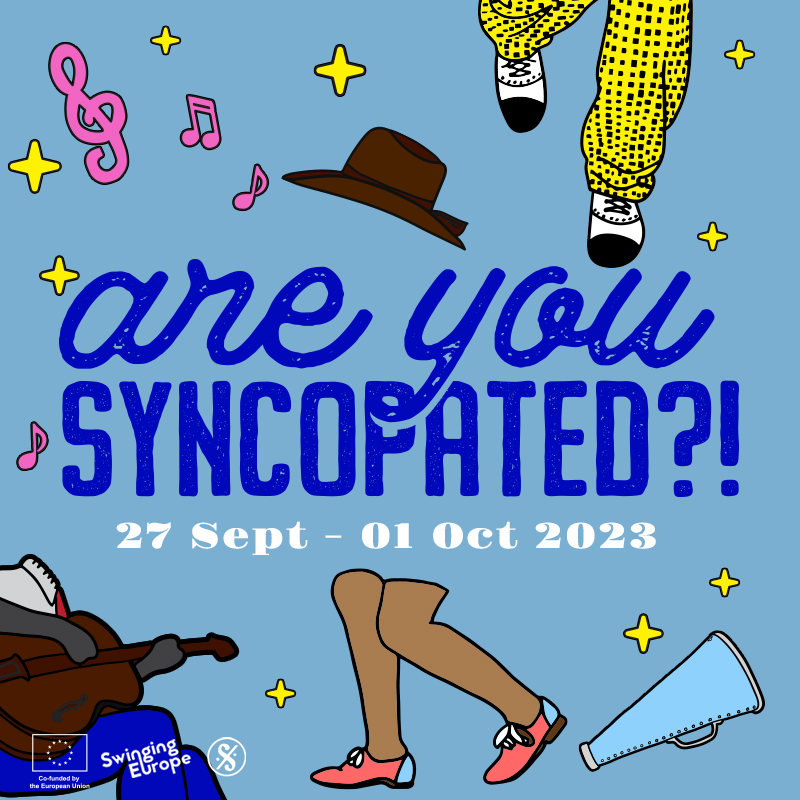 Single Nights
★ concert & party
★ Thursday Dance Taster
★ talks & panel discussion
★ late night sessions
★ DJs sets

17 – 42 € *
DANCE WORKSHOP PASS
(28 Sept – 01 Oct)
★ FESTIVAL PASS
+ 2 days of dance tracks
1 leader Spot is available for Honeydripper, 3 spots for the Stompers.
220 € *
Pass registration is closed!
The single night tickets are now also available. You can ask for the community fund by writing us at registration@areyousyncopated.de.
Terms & conditions
Cancellation conditions and refund
If you want to cancel your ticket you can do so until Sept. 1, 2023, at the latest. Please send an email and we will reimburse your ticket minus a service fee of 15 Euros. You can transfer your ticket to someone else but have to notify us before Sept. 27, 2023, and send the contact of the new participant.
In case of force majeure or illness, we will refund your ticket minus 15 Euros until September 27, 2023. Proof of this must be provided by email.
Please write to registration@areyousyncopated.de for any of the issues listed above.
If the festival has to be cancelled due to force majeure, we will refund the amount minus 15€ administrative costs. We will not be able to refund any other costs such as housing, transport and other expenses related to your planned visit. Force majeure does not include a cancellation of the event for a lack of participants.
Code of conduct
If you disregard our code of conduct, you may be asked to leave without any refunds.
Corona guidelines
A (post-)pandemic world requires adaptations in hygienic measures, official rules and (our own) ethics to go by. We believe that the majority of dancers are up to date and conscious about the risk to their own and other people's health. We expect that you do not join the festival if you are sick with the possibility of having and spreading Covid-19.
The Corona rules officially in force at the time of the event in Germany/Berlin automatically apply to the event. We reserve the right to stipulate stricter guidelines that deviate from these.
Dancefloor
No addition of dance powder on our floors is allowed, this can lead to injuries with less experienced dancers. We kindly asked the non-dancing audience to take care that they don't bring dirt onto the dancefloor and possibly change their shoes before entering the dancefloor too if need be (bad weather).
Data
We do not store IPs with form submissions. Your data is stored internally and only on a secure server space located in Germany (Strato). We do not share any information with third parties. Your data will be only used for this event.
You can subscribe to our newsletter about our future events and music releases – you can unsubscribe anytime from those by clicking the unsubscribe link at the bottom of those emails.
Documentation and Marketing
By registering for Are You Syncopated?! you agree to potentially appear in pictures and videos made, shared and used on social media for our marketing purposes.
The recording of teaching contents/lesson, of the workshop, and of the talks requires the approval of the teacher/s and filmed person/s.
Insurances
Syncopation Society GbR does not take any responsibility for incidents or injuries nor for personal items or valuables lost or stolen during the event. Look out for yourself and others as well, please. Especially if you are travelling from abroad, please make sure that your health and liability insurance are covered.
Program
The organiser reserves the right to change the announced program Likewise, temporal or spatial postponements may take place. These will be announced in good time before or during the event.
Age
Children under age must come accompanied by their parents.